Advance NinjaTrader Code Security
NinjaTrader provides their Ecosystem vendors with complimentary tools to protect their code and minimize possible license theft. However as much as NinjaTrader's attempts to prevent this theft, hackers continue to make advancements in their efforts to steal your code so you may decide NinjaTrader's complimentary toolset is no longer sufficient to protect your Intellectual Property.
To be more specific, all software vendors that utilize add-on products compiled into .NET assemblies are vulnerable to hacker attack as shown below. As a result some add-on products may be made available illegally by removing the previously required licensing checkpoint. The purpose of our DTB Protect service is to offer another level of protection beyond CLI Secure, NinjaTrader's complimentary obfuscation software, to minimize or eliminate such attacks so you do not see your Intellectual Property being offered by someone else!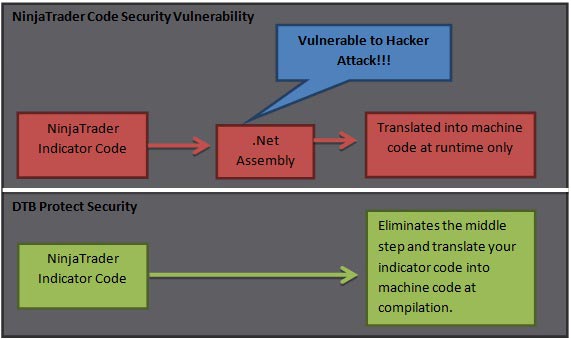 How can we help?
We can help you secure your indicator code by translating the NinjaTrader compiled code into machine language and it will be impossible or very difficult to hack the code including the core logic for your indicator.
We can also help you by coding a secondary license check, by adding a secondary layer to license check. Secondary check will make it even more difficult for a hacker to patch the license check.
How It Will Work?
You will send us the indicator zip file that you commercially distribute to your clients; we will obfuscate your code into machine language and create a code wrapper for NinjaTrader. We will send you back the indicator .zip file that you can safely distribute to your clients, with peace of mind that your code and the core logic of the indicator now has an added layer of security